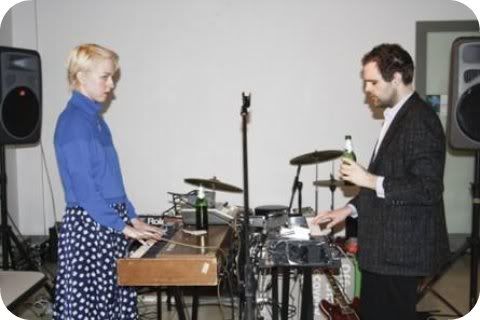 Free Choice
is the new project of Jarod Ziadic from Fabulous Diamonds, and Free Choice Duo is the stage show.
They performed at Gold Shoulder last night (a four week residency of
Mountain Fold Journal
at
Good God
) and their live show was unencumbered, uncluttered Cluster style atmospherics, droning synth sounds filling the room but without being too heavy or obtrusive. Their name suggests each performance is unplanned and unrehearsed, but I think they must've had some sort of discussion before the performance - it just seemed too easy for them.
You know, it was interesting seeing an audience watching the two of them on stage, because they don't say anything or move while they're playing. There's not much to watch. But the sounds they were making were intoxicating. I just vibed out for their entire set, which was two movements of visceral free-form on synth and organ.
Free Choice have a split 7" with Mental Powers out now through Fifth Column which you can buy at shows.