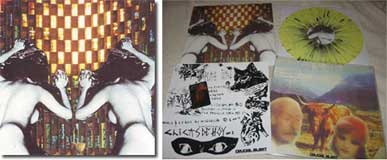 In January
Wildildlife
re-released their hand-made CD-R
Peas Feast
on pressed on yellow wax vinyl through
Crucial Blast
(USA), in a limited edition of 1,000 copies. If you but the vinyl you also get a digital downloads of all the tracks from
Peas Feast
as well as a digital-only EP. of unreleased material called
Drongolet Demos
.
I don't often love these sort of noise bands, but Wildildlife contast their heavier metal moments with psychedelic veberb and echoing freak-out vocals (which I always love) and while it's confusing at first, the more I hear the more I like.
They sound stoned (which is fitting considering their San Fransisco roots) and it's not
easy
listening, but it's a great trip into the oft uncharted territories of druggy shoegaze metal music.
Did they just invent a genre?!
Listen to their stuff at
their Myspace,
marvel at the penis chandellier background, and buy their records
here at insound
.